Warmer, drier, quieter, safer, built to last for decades—at half the cost of comparable deer blinds.
That's the Blindsider Hunting Blind.
What makes Blindsider Hunting Blinds Better?
Better for family hunting trips, better for weekends with the boys, and better for solo deer hunts?
A Blindsider Configuration for Every Hunter
Archer
The most vertical clearance to shoot traditional or compound bows.
Crossbow
A popular setup for all gun, crossbow, and bow hunters.
Rifleman
Our quietest windows, ideal for gun hunters and cold days.
Sentinel
The most visibility and our largest openings to shoot.
Looking to establish or maintain white-tailed deer food plots? Or maybe you just want to enhance the health and appeal of your natural vegetation to game?
WHATEVER YOUR FOOD PLOT NEEDS, Plot Excel nutritional fertilizers get the job done.
Jason D., New Jersey and Maryland
I originally looked at the Blindsider units mainly for the one-piece design to help with scent control on our pressured deer herd. When I learned about the multiple window options and the affordable price, it was a no-brainer. We have used them with much success in New Jersey and Maryland.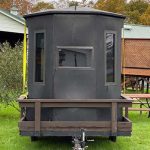 Dennis S., Pennsylvania
The Blindsider is very warm. You have plenty of windows to shoot from, and I really like the one-piece molded unit.